Welcome to HomeLife Senior Care Family Connect!
HomeLife Senior Care Family Connect web portalis provided free of charge to every client. With Family Connect, you are able to view information related to your or your loved one's care schedule, view a picture and info about the caregiver(s) currently providing care, and look over the assessment and account information on the account so that you can be in the know at the touch of a button! If you need to make changes to the care schedule, update any information on the account, or need to contact the office for any other reason, simply click on the "Contact Us" button and someone from our office will receive your message instantly!

If this sounds like a tool that would be useful to you, please take a moment to read below about the many great features provided through the HLSC Family Connect web portal and how to access your account.
Portal View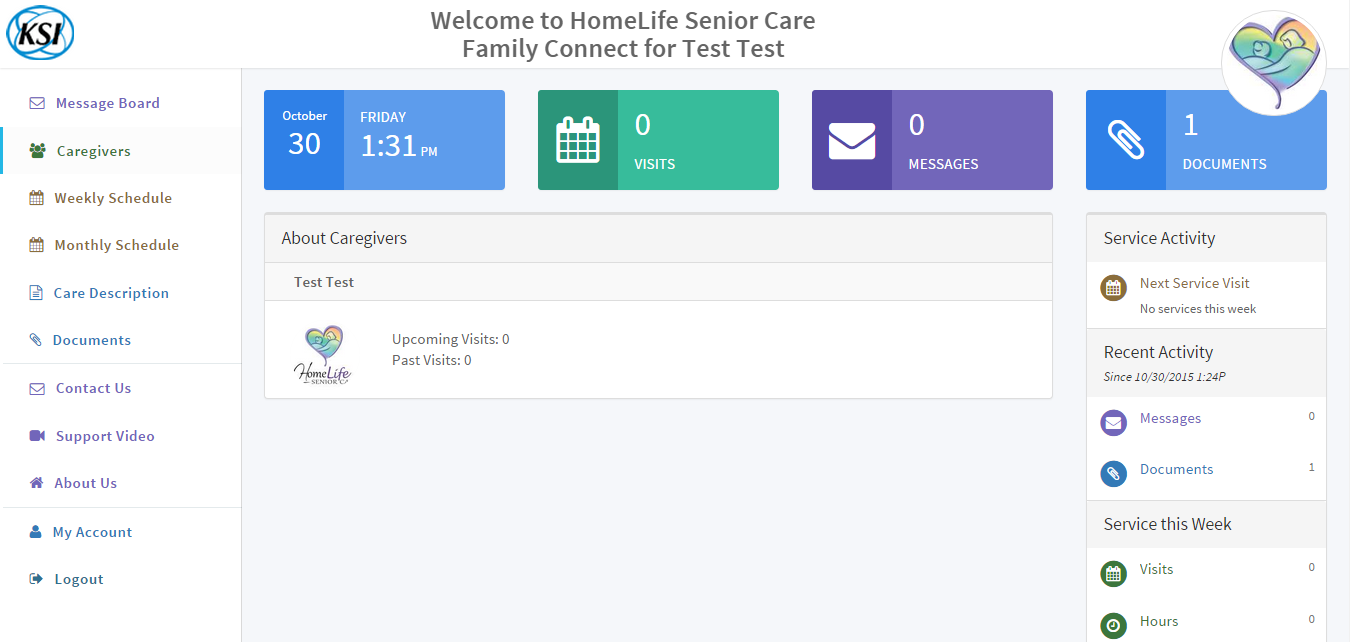 Image above: the HLSC Family Connect home page after logging in.
ALREADY A FAMILY CONNECT MEMBER?

Overview of Family Connect
After logging into the HLSC Family Connect web portal, you will see several options listed on the left side of the screen. A brief description of each clickable link is provided below and are listed in the same order as they appear in the portal.
Caregivers: View information about the caregiver(s) currently providing care including a picture of each caregiver.
Weekly and Monthly Schedule: View your calendar of scheduled visits by week or by month.
Care Description: View the current care plan on the account.
Documents: View a copy of the current assessment to be sure that all the information is accurate and up-to-date. Please contact our office if anything needs to be updated.
Contact Us: View messages or send messages directly to the office staff.
Support Video: A tutorial video for more information on how to navigate the HLSC Family Connect portal.
About Us: Quick links to access additional HomeLife Senior Care resources including a link to our website, video, blog, Facebook and Twitter page.
My Account: View your account information including the contact and billing information to ensure everything is current. Please contact our office if anything needs to be updated.
We are sure the HLSC Family Connect Web Portal will be an indispensable tool to you and your family. Family Connect is the window into your senior care account. Manage all your information in one place. Everything you need to stay connected. Everything to provide you peace of mind about the care of your loved one.